Cathy Quiel, internationally renowned watercolorist, captures her images through a vivid application of pigment. Her paintings are represented internationally in corporate and private collections including the executive offices of CSULB and the cities of Los Alamitos and Cerritos.
Her work has been published and featured in numerous art publications including The Best of Watercolor III, The Artistic Touch Volumes 1-4, Confident Color, The New Creative Artist and 'The Artist Magazine' and 'The American Artist.'
Cathy Quiel has been a guest lecturer at the Riverside Art Museum and the Muckenthaler Art Museum in conjunction with the National Watercolor Society and Watercolor West.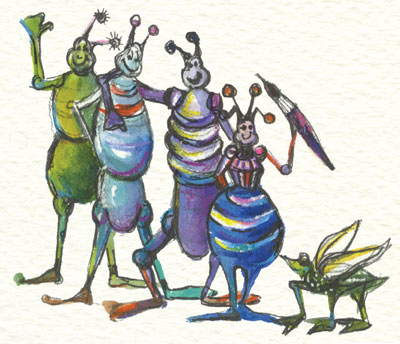 Although California based, Cathy Quiel's talents are not restricted to the West Coast where she teaches through the SBCC, Schott Center. She has taught workshops in France, Italy, Malta, Mexico, the Caribbean and Alaska. She frequently instructs a watercolor workshop in the Umbria/Tuscany area.
Her work is represented by Gallery 1029 in Santa Barbara and Gallery Los Olivos.
About Airplanes in the Garden: "Illustrating Airplanes in the Garden was a pure delight. Within each page of this delightful story by Joan Z. Calder, I envisioned the social life and visual vantage point of 'critters' that walk, fly and crawl in a monarch butterfly's life. While the book is a wonderful and accurate portrayal of the life cycle of a monarch butterfly, I must admit I did take some artistic license in the creation of many of the bug spectators and antennae friends."
"To illustrate these activities, I utilized and splashed vibrant watercolor. The watercolor medium was ideal for this purpose. Watercolor is a translucent medium that easily portrays the transparency of leaves, flowers and butterfly wings."
"It is my sincere hope that the viewers of this book will enjoy the monarch knowledge, colors, little characters and images as much as I enjoyed painting them."