AIRPLANES IN THE GARDEN: Monarch Butterflies Take Flight
is Joan Calder's first children's book.
A passion for Monarch butterflies led her to write this nonfiction children's picture book to educate and excite children about the wonders of nature.
Joan Calder, author, horticulturist and garden designer, managed the Greenhouse for Ecology, Evolution and Marine Biology at the University of California, Santa Barbara and currently teaches garden design classes for the Santa Barbara City College Continuing Education program.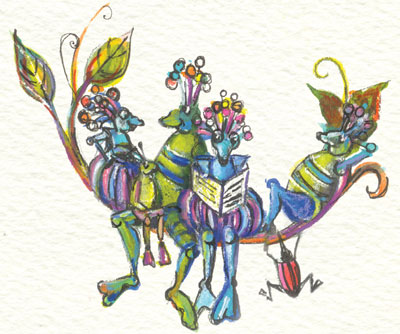 She grew up learning about gardening on a dairy farm in Cato, Wisconsin. After receiving a B.A. in Social Work from the University of Wisconsin, she held a variety of jobs, from recreation director for the U.S. Dept of the Army in Vietnam, to travel agent, to marketing assistant in a high tech company. In 1997 she returned to school to follow her passion; earning an A.S. degree in Ornamental Horticulture from Foothill College in Los Altos Hills, California.
AIRPLANES IN THE GARDEN: Monarch Butterflies Take Flight was selected by the Smithsonian Natural History Museum, the U.S. National Arboretum, the Lady Bird Johnson Wildflower Center and the National Butterfly Center to be sold in their gift shops.
Calder is a member of the Garden Writers Association, The Xerces Society for Invertebrate Conservation, Toastmasters and a Red Cross volunteer.
She lives in Santa Barbara, California with her husband John.